Advanced Hunter Tips
This page is destined to players who already have a little bit of experience playing the hunter, and would like to take their abilities to the next level. For basic information and a beginner's guide, refer to the hunter section of this page: https://raidland.gamepedia.com/Strategies

General tips:
You can crouch by pressing shift when you are out of energy or when you are not moving. This can be useful to hide in bushes or to make yourself harder to hit when running away.
Generally speaking, you are not a gold carrier. If you pick up gold, try running away from danger and dropping it (using the G key) to a warrior on your team.
Quick peeking and shooting around corners is very effective and you should use it as often as possible. Use obstacles to your advantage! Because the game is in 3rd person, you will have a small advantage when peeking to the right of a wall.
Your opponent's weapon glows yellow when charging an attack. Use this to spot them easily from further away, especially during Battle Rally.
When raiding a gold bank, your role is to take out the gold guards as you can one shot them from far away. After that, support your teammates if the gold bank is being contested.
Jump to go up vines instead of going up normally. It will make you harder to hit when going up and when you reach the top.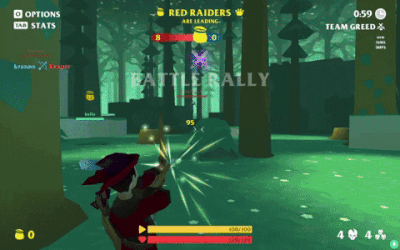 Duels against other hunters:
Never stop moving, as much as you possibly can. An enemy hunter could snipe you without you even seeing them.
When dueling, constantly jump and alternate between falling normally and using your slow fall. This will make your movement less predictable and make you harder to hit.

Duels against warriors:
Jump over their shield and use slow fall to get an easy shot on their head.
You can look behind you while running. Use this to see who's following you and get an easy shot on them when they least expect it. Watch out not to bump into walls!
Use the last tip to predict their shield bash (you can see them jumping up over you) and dash away when you feel it coming. You can also time your dashes with theirs in order to keep a safe distance.

Duels against berserkers:
Most of the tips for the warrior also apply to the berserker.
When chasing you, berserkers will often try to kill you with their axe throw, however, they are less mobile when charging their shot. This is the perfect time for you to quickly turn around and shoot them in the face.